Sunday Fun-day and Dinner at Tortilla Flats
Yesterday was the ultimate Sunday Fun-day!  My husband and I attended a wedding Saturday night in Boston, and we stayed overnight at the Boston Omni Parker House hotel.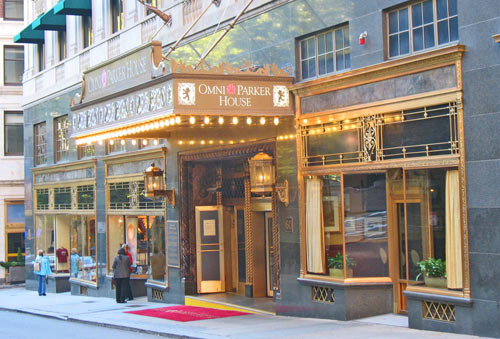 (Source)
The room was small but cozy, and due to the extremely comfortable bed, I ended up waking around 7 A.M.  Talk about sleeping in!
I hit the hotel gym for a 4.5 mile run while the husband slept for a bit longer.  Eventually we made our way to the hotel restaurant for breakfast.  I ordered a simple plain yogurt, granola, and fruit parfait.  I wanted to keep it light, since I anticipated a Mexican feast later in the day!
We spent the day in the Boston area, heading over to Cambridge first, as my husband had an event to attend in the early afternoon  at Harvard.  Then, we headed over to the Copley area, window shopping along lovely Newbury Street.  We walked around a bit, enjoying the warm fall weather.
(Source)
Around four in the afternoon, we decided to head back home to Providence.  We debated just eating at home, but the weekend had such a fun vacation feel to it that we decided to keep the party going by heading to my favorite corner Mexican restaurant!
This legendary spot is called Tortilla Flats, and it has been a Providence institution forever!  In fact, I recall coming to this restaurant with my parents on weekends when I was in high school.  My mom even tells me stories of when she used to come here with my dad before I was even old enough to remember!
Since we arrived before the dinner rush, we were promptly seated.  I didn't even need to look at the menu– I always order the same thing!
We obviously began our meal with their chips and salsa.  When paired together, the chips and salsa tasted just like Doritos!  I think I wanted to come here tonight just to satisfy my craving for their amazing jalapeno salsa!  We got the medium spice, though mild and hot are also available.
Now you would think that would be enough to start off with, but no, we went further in the appetizer department.  Tortilla Flat's "traditional nachos" were also ordered and also dominated.  Full of beans, cheese, guacamole, salsa, jalapenos, lettuce, and tomatoes, this gooey mess was eaten by the husband and I in its entirety!
Even though I was full by this point, I still ordered a combo special consisting of one bean burrito, one bean enchilada, refried beans, and Mexican rice.  Their combo platters are their specialty– one can choose from a variety of both vegetarian and meat fillings, and in addition to burritos and enchiladas, tacos and tamales are also available.  I ended up eating about half of the burrito, one-third of the enchilada, and left the beans and rice.  My husband will appreciate these leftovers tomorrow!
Did I have room for dessert?  Did you have to even ask?  Mud pie please!
I ended up eating all of this.  Coffee ice cream in an oreo crust, topped with crushed almonds, whipped cream, chocolate sauce, and caramel drizzles– this mud pie was absolutely perfect!  It wasn't an easy choice to make though, as Tortilla Flats also offers some awesome delicacies like churros and fried ice cream.
All in all, this meal was a great (though decadent!) way to cap off the weekend.  I love ending Sundays on such a sweet note!  Monday, bring it on!
How did you spend your Sunday?