Birthday Dinner Number 2: Amici for Ami
I apologize if my blog just feels like one big weekend recap, but this past weekend was so jam-packed that I need to write separate posts for each thing I did!  Maybe I will start with something from today, and then flashback to my Saturday night birthday dinner numero dos!
So today, I ran after school, expecting it was going to be quite the struggle.  However, seven miles later, I felt strong and fantastic!  I wonder if my unusually high energy levels had anything to do with my concerted efforts to up my healthy fats, calories, and protein in the afternoon.  Today, I added some sprouted beans to a typical guacamole, veggie and hummus pita sandwich, and I'd like to think that gave me my extra burst of energy for my run!
Now, we can go back to Saturday night!  Before my Wright's Farm cake feast featured yesterday, my husband, sister, brother-in-law, and two cutie nephews celebrated my birthday at Amici Bar and Grille, located in the Federal Hill Italian neighborhood of Providence.  We were racking our brains on where to go– my husband and sister wanted Asian food, and I wanted Italian.  Finally, Amici popped into my head– it was the perfect place because it is a casually upscale restaurant with a menu that features both cuisines!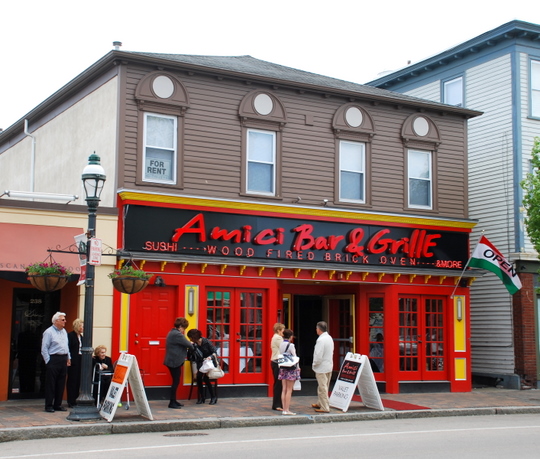 (Source)
As the sign suggests, Amici offers a huge variety of sushi, while also serving wood-fired brick oven Italian favorites.  I know it seems sort of a strange hybrid, but believe, me, this restaurant pulls it off!  I was able to indulge in some of my traditional Italian-American favorites, while the rest of my crew ordered up lots and lots of sushi!
Amici starts diners off with an enormous basket of warm, fresh focaccia bread with a spicy olive-oil for dipping.  I downed one and a half pieces immediately!
I heart flavored olive oils!
I ordered my standard Amici fare– the margarita grilled pizza with extra cheese.  Their pizza is outstanding– rustic and simple, with the flavors of the fresh ingredients really shining through!
I devoured two gorgeous slices:
I also ordered a salad consisting of greens, grapefruit, and goat-cheese and pistachio encrusted grapes, all tossed in a tangy cranberry vinaigrette.  Oh, there was also some grilled asparagus to be found in the mix!
The salad was tasty, although I found the asparagus to be an odd addition to an otherwise sweet and tart salad.  I think some candied nuts would have been a nice touch, as well as some sliced apples or pears.  Regardless, I still enjoyed it, down to the very last piece of lettuce!
I sat across from my eight-year old nephew, who ordered a pasta with shrimp and cream sauce.  Can you tell he was satisfied with his meal?
He never passes on a chance to ham it up for the camera:
Amici has really become a staple for my husband and I because we have such different food preferences, that it is often difficult to find just the right thing.  It's a perfect compromise restaurant– he devours boatloads of sushi, which he proclaims as excellent, and I get to stuff my face with one of my favorite food combos of pizza and salad.  Additionally, Amici boasts a trendy, modern and somewhat upscale atmosphere that makes you feel like you're in the scene, just waiting to see and be seen!  I'm so clever, right?
We had a fantastic dinner, and the fact that everyone's taste buds were delighted made it even better.  I highly recommend Amici, especially for those times when you just can't decide what you want!  Pasta and sushi together?  Sure!  Edamame and bruschetta?  Why not!
Do you frequent any restaurants that dabble in multiple ethnic cuisines?  What do they have to offer?