Yesterday, I sat down to make my weekly shopping list for my Sunday grocery shop.  Despite all of the food-filled holiday festivities, I actually have managed to run down my food stores at home to a bare minimum!  Because I feasted at other people's homes over the last few days, I had little need to keep much food in the house.  However, as a new work week is right around the corner, I need to stock up on all kinds of goodies, especially fresh produce, so that I can prep today for healthy lunches and dinners.
I thought I would share with you my most recent shopping list– it's always fun to see how other people fill up their carts.  Keep in mind, this is more than I usually purchase, as my fridge is currently very empty!
Produce:
(Source)
2 sweet potatoes, 1 onion, fresh ginger, 1 bell pepper, steam-in-bag green beans, steam-in-bag broccoli and cauliflower mix, radishes, sprouts, cucumber, bag of brussel sprouts, broccoli slaw, baby carrots, 4 tomatoes, grape tomatoes, mixed organic greens, grapes, sliced fresh pineapple, 1 pomegranate, 7 bananas, *container of munch mix (sprouted beans)
Pantry Items/Breads/Grains: 
bag brown lentils, dried dill,  2 Amy's canned soups, *Ezekiel sprouted grain wraps and english muffins, *mini whole wheat pita breads, *oatbran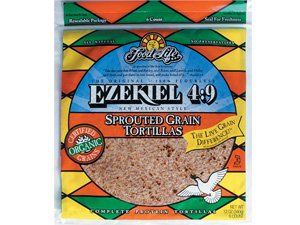 (Source)
Dairy/Prepared Foods:
plain greek yogurt, organic 1% cottage cheese, Siggi's yogurt cups, *quinoa salad, *hummus
Other:
Ziplock steam bags, large garbage bags, Windex-like cleaner, case of 16 ounce bottled waters
The items I asterisked are items I have to buy at either Trader Joe's or Whole Foods, as I either prefer the brands at those stores, or I simply cannot find them at my local grocery store!
I'm sure a few impulse buys will find their way into my cart as well, but for the most part, this seems like a good list to get me through the week.  I  plan on preparing at least one kind of bean and veggie stew tonight, so that I can eat if for dinner throughout the week.  I do have plenty of canned beans in my pantry, so as long as I purchase some fresh veggies to simmer along with beans and spices, creating some sort of healthy stew will be easy,  In fact, I am off to search for some recipes right now.  I'm thinking perhaps something with black beans. . . maybe some kind of chili?
I'll of course let you know what I come up with!  Have a fantastic Sunday!
What are some of your grocery shopping staples?