Sunday Funday: My Favorite Posts From Around The Blogosphere This Week!
Personally, I think this past week was perhaps not my best one ever, that's for sure.  I spend nearly each day wishing it away just to get to the next, which is not a healthy mentality for me.  I failed to take advantage of the beautiful weather and instead just let stress/work/worries kind of defeat me.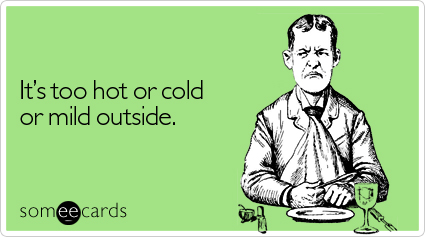 (Source)
I was in a funk/rut/mood/call it whatever you like, but I am determined, as of this second, to not let this upcoming week get the best of me.  Yes, I have a few hurdles to get through also in the next few days that undoubtedly are going to create some anxiety, but I promise you (and myself) to just breathe and get through it with hopefully a smile on my face by the end of each day!
That being said, when I was reading my usual round-up of blogs this week, the posts that stood out were the ones who helped me snap out of my rut, even if for only a moment.  This week, I am happy to feature the posts and bloggers who got me excited about something and managed to help me crack through my funk!
1)  Best Idea I will Definitely Do In The Future When The Time Is Right:  I am not going to lie– I have baby fever!  I am slowly but surely finding myself drawn to more and more things baby!  I was reading the lovely Bobbi's blog as I always do and read a fun account of her friend's 30th birthday and baby gender reveal party.  The way in which her friend revealed her baby's gender was beyond adorable and amazing!  To both Bobbi and her friend, Jessica, thanks for sharing that special event and wonderful idea with the rest of us– I now hopefully plan on doing the exact same thing one day!
 (Source)
2)  Best Recipe To Get Me Out Of My Food Rut While Staying Within My Recipe Comfort Zone:  The reason I have not posted about my dinners much is because I have been in a major food rut lately.  I made Mexican lasagna a few weeks ago and it made nine servings.  I have been steadily making my way through the pan (I did freeze half of it and then just reheated when needed).  I have been eating this lasagna for nearly two weeks, alternating it with my usual staple Asian Beans N' Greens.  Therefore, dinners have been less than interesting!  I finally finished all of the lasagna and am excited to whip up something new, yet along the lines of what I usually eat for supper.  Enter Jenna's (of Eat Live Run)  Spicy Lentils with Sweet Potato and Kale.  Full of all things I love and adore, this hearty stew is obviously new to me, but perfect for me as well in that it includes the two foods I always try to include in my dinner:  beans and veggies.  I am going to make this ASAP, so I will finally be able to show you all a different dinner!
3)  Best  Reminder To Use Everyday Ingredients In A Different Way:  Based on number 2 above, you can probably guess I am an "eater of habit."  If I eat something I certain way once, I will probably eat it that way for a very long time without really mixing it up.  For instance, any breakfast bowl I craft typically contains exactly the same components:  granola, nut butter, coconut kefir, cinnamon and banana.  Occasionally, a chia seed or two will find its way in too, but I never vary the basic formula.  Evan of The Wannabe Chef recently posted a simple recipe for a Tropical Greek Yogurt Parfait in which he took regular, everyday ingredients and re-imagined them into something exotic and unique.  It was a very good reminder to me personally to do the same.  I need to take what I like and reformulate it into something spectacular– really, all it takes is a little creativity and a few extra seconds!
4)  Best Inspiration To Not Throw In The Can:  Injuries, stress, blah blah blah– sometimes it just feels like the world is mad at you, ya know?  Many times over the past two weeks I have been tempted to throw in the proverbial towel when it comes to exercise.  As an all or nothing person, it has been extremely uncomfortable for me to go from running thirty plus miles a week to only walking about ten to fifteen miles.  At times, especially this week, I have blown off exercise only for the fact in my warped mind, the exercise wouldn't be enough (when compared to what I used to do) to even bother.  So so unhealthy and unbalanced– I know!  So, when I read Theodora's post about never wanting to start over in regards to the whole healthy eating/exercise thing,  I was kind of gently blown away!  I learned a valuable lesson from Theodora about myself– I don't want to start over either!  Just because I can't run, it doesn't mean I can't exercise and reap all of its millions of benefits!  Having a bum leg is not a reason to slide backwards; it's simply a reason to form a new plan!
(Source)
5)  Best Mango Inspiration:  I love mangoes– there's nothing not to like about them!  Juicy, tangy and sweet, I eat mangoes nearly everyday as part of my post-lunch fruit dessert.  However, I have a confession– I never buy mangoes whole, just pre-chopped by the grocery store!  I am soooo lazy, I admit it!  Not only that, but I only eat mangoes as is– never in a fun sweet or savory recipe, despite the fact they are absolutely one of my favorite fruits ever.  Thankfully, Meghann of Meals and Miles provided plenty of mango-spiration this week as she experimented in the kitchen with a case of Ataulfo mangoes she received from Whole Foods.  From mango in sandwiches to mango in curry, I was inspired!  I immediately bought a few Ataulfo mangoes from Whole Foods myself and am thinking of adding them (after I chop them myself thank you) to some sort of curry dish also.
(Source)
The above featured bloggers and posts really served as bright spots in an otherwise dull week.  They gave me things to be excited about, which is exactly what I need right now!
Have you read any inspirational posts this week?  Link away por favor!