Daily Archives:
April 3, 2012
My past week in fitness was, well how should I say this. . . both sad and triumphant at the same time! The sad part is my lack of any exercise Wednesday, Thursday, and Friday. The triumphant part is what I managed to accomplish on Saturday!
(Source)
So let's dive right in, shall we?
Tuesday, March 27th: 6.1 mile treadmill speed walk (speeds ranging from 4.1 mph to 4.6 mph); weightlifting for chest and back (6 exercises, 3 sets each)
Wednesday, March 28th: Rest
Thursday, March 29th: Rest
Friday, March 30th: Rest
Saturday, March 31st: 6.8 miles treadmill (.2 mile warmup walk, 6 miles run consecutively, .6 miles cooldown walk); 90 minutes beginners yoga class
Sunday, April 1: 5.5 mile outdoor walk, weightlifting for arms and shoulders (7 exercises, 3 sets each)
Monday, April 2: 75 minutes on the crosstrainer, light stretching and a few planks held for as long as I could!
My workout Tuesday was great– a nice long walk while reading blogs on my I Pad and some upper-body lifting. To the detriment of my workout schedule, on Wednesday I had to stay after school and got a flat tire, Thursday I had to stay after school and get my tire fixed, and Friday, I had to stay after school to catch up on correcting papers since Friday marked the end of our third quarter in school. Now I know I could go workout at six or seven at night, but personally that doesn't work for me. Remember, I fall asleep at 8:30 most days, so I am in getting-ready-for-bed mode at seven! Ain't no way my body is going to get in an exercise groove at that time!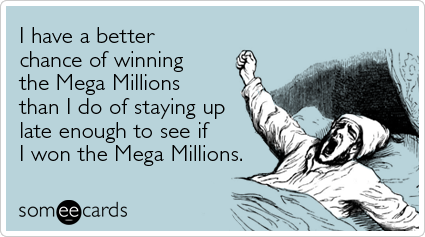 (Source)
On Saturday, instead of hopping over to the gym at the crack of dawn, I told my husband I would wait for him and we could go together. When I was in intense runner mode, I would be there when it opened, run on the treadmill, go back home and go to the gym with him again later and do a less intense walking workout. Now that I have been away from running for so long, I don't mind just doing the hour with him at the gym and foregoing my own individual pre-workout workout!
Anyway, I decided to test out my leg again by running a bit to see how it felt. Last week, it started to hurt after about four miles, so I stopped. This time, I breezed along for six miles and it barely hurt! I did still feel pain at about a scale of 1 out of 10, but it didn't intensify at all while running. I made myself stop at six miles so as not to overdo it, and I promise not to run for a few days to allow myself to recover fully before my next jaunt. It is so beyond exhilarating to think I may be back to running regularly soon, but I will not push it. I've waited this long, so another few weeks or even months of lots of rest and running infrequently in the long run is no big thing! At this stage in the recovery game, I will happily take that six-miler and put it in my pocket!
Sunday consisted of a nice outdoor walk with the husband, covering about five and a half miles. We kept our pace brisk, and it was a good recovery activity. I did hit the gym for upper body weights as well, this time focusing on my least favorite muscles to work: arms and shoulders. However, I dread bis, tris and shoulders much less if I schedule the weights session for a weekend day verses a weekday after school when I am already fairly tired. I even upped my weights on most exercises this week!
(Source)
Yesterday I booked it to the gym for a nice and easy recovery cardio workout just to get the blood flowing in my legs, which were a bit tight and tired after the weekend. It was lovely, as I spent the time reading blogs on my I Pad and listening to Pandora. Isn't technology just the best? I decided to a bit of stretching as well for once, and even busted out a few planks!
All in all this past week marked my tentative return to running! It feels sooooo great to get back into it, but I definitely will proceed with caution! No need to jump right into double digits–I have been given the chance to ease into running the right, moderate way, and I plan on doing just that!
How was your past week in fitness? Any highlights?