Betcha Didn't Know
I always love when bloggers share little tidbits about their lives, past or present, that a regular reader wouldn't otherwise have known.  I feel it makes them more relatable, and well, more human, when readers are let in on facts about the bloggers that are sort of obscure or random.  I thought it would be fun to share with you all today some things about me that unless you know me pretty well, you probably don't or wouldn't know!
1.  My older sister, big brother and I were all valedictorians in the same middle school and high school.  I am by no means telling you this to brag.  Rather, it is just a fact that supports the idea that as a kid, I was perpetually stressed out.  I had big academic shoes to fill, and while no one in my family pressured me to excel academically like my siblings did, I put plenty of pressure on myself to do so.  When I learned I had become valedictorian of my high school senior class and thus had to give a speech, I made my sister write it for me since I couldn't take another ounce of stress at that point!  She wrote a great speech though, and my delivery was so spot-on no one guessed I didn't write it myself!
2.  I took tae kwon do with my sister for three to four years, starting in middle school into high school.  I don't even remember what belt I worked up to, but I do remember breaking a wooden board with my palm.  My sister and I gave up on karate, but my bro did get his black belt.
(Source)
3.  When I was at grad school at Harvard, I had a class with Ashley Judd.  I would seriously just stare at her in every class (creeper much?) and marvel how close I was sitting to a bona-fide celebrity.  She looked completely different in person. . . not better or worse– just different!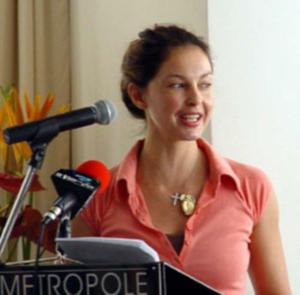 (Source)
4)  Speaking of celebrities, Giada DeLaurentiis of the Food Network once was staying at the same bed and breakfast my husband and I were at on Martha's Vineyard one summer.  She was having breakfast with her husband, and I was dying to say hello.  So I did what any creeper would do– I waited outside of the door of the breakfast room until she came out and introduced myself to her when she was leaving the room!  She was very sweet and didn't seem to mind my stalker ways.
(Source)
5.  I also spotted Billy Baldwin once at an Indian restaurant in Providence, but I left him alone.
6.  Without my contacts, I am almost legally blind.   One of my biggest fears if failing the vision exam at the DMV and not being able to get renew my license– no joke!  Thank god I was able to renew online this past year and thankfully didn't have to go in for a vision test!
7.  I have broken up three fights in my ten-year teaching career amongst students.  Two were boy fights, and I positioned myself right in between them because I knew they wouldn't hit me.  One was a girl fight, and in that case, I physically yanked one girl off of the other and walked her away while trying to calm her down.  Such is the life of a high school teacher.  I actually was awarded a special pin from my principal for breaking up the girl fight!  The reason I am remembering this now is that today, one of my students left my class (where he was perfectly calm) when the bell rang and got in a fight in the hallway.  I didn't have to break it up though because some other teachers got there first.
(Source)
8.  My sister, brother and I are all married, but not one of us was actually married in front of our parents.  My sister was married in India (my mom were here in America), my brother married at a courthouse in Virginia (my mom was in Rhode Island), and my husband and I had our own ceremony just the two of us at a beautiful spot in Newport.  None of us "ran away" or anything– our parents were fully aware of all of our plans and were totally fine with letting us marry the way we wanted to.  Both my bro and I later had larger receptions for friends and family though.
9.  One of my features that elicits the most compliments are my eyebrows.  I get them threaded every week and am pretty obsessed with keeping them looking perfect.
10.  During my first few years of college, I had two jobs– one as a pharmacy clerk and the other as a cashier at Waldenbooks.  I didn't do it for money, but rather because it was a time in my life that I felt like I needed to be as busy as possible in order to keep my mind off of certain things.
11. One more for good luck. . . let's see. . . ever since I was little, whenever I got mad or had a tantrum, I would threaten to take scissors and cut something of value (bratty, I know).  One time when I was seven, I was jealous my mom was spending so much time with my grandma, who was visiting from India.  They would spend all day gabbing and knitting.  So, one afternoon, I took a scissor to each and every knitted creation they had made.  I know that is so awful, and I do regret it as an adult, but it's actually become a funny family story that often gets passed around when we get together!
I could go on, but I will spare you for now. . . I'm sure there will be a part two!
What's a fact about yourself most people are unaware of?