What I Ate Wednesday: Fresh Food
I have a confession to make. . . well, most of you have probably figured this out about me by now. I eat the same things over and over and over again. One thing I often do is make a huge batch of something and eat it all week long for dinner. This is great for saving time and effort; however, I have officially become sick of eating the same foods all of the time. This past week, I have really been branching out in terms of cooking new foods (and eating down my pantry in the process.) One thing I certainly did not do this week was "bulk cook." I actually have been and plan on eating varied and fresh meals every night this week!
Before I dive into what I ate, let's take a moment to give a shout out to Jenn for hosting this lovely party!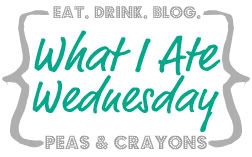 I have what seems like an endless supply of granola in my pantry, all different brands! I finally tore into this raw granola from One Lucky Duck that I ordered a while back.
I served it as usual– with coconut milk kefir, cinnamon, banana, and a tablespoon of raw tahini.
The granola was incredible, and the most interesting part of it is it had a noticeable and very delicious hint of orange in it.  Too bad that the actual amount in the bag is so little!
For lunch, I had some TJ's minestrone soup, which I adore because it tastes so good and includes so many different veggies, beans and brown rice to boot.  I topped it with some sauteed spinach (cooked in olive oil and seasoned with salt, garlic and pepper).
The soup is not that substantial, so for more protein, I paired it with a small container of plain Greek yogurt mixed with blueberries, strawberries and pine nuts for crunch.  Yes, folks, I am back on the dairy train, mostly for purposes of protein.  I know it is possible to get dairy from vegan sources, but frankly, I am not that good at it and it takes a lot of work for me to get adequate amounts.  So, dairy to the rescue!  As far as how my gut feels with the addition of dairy, I feel like I had constant stomachaches even before I added it back into my life, so it was not necessarily the culprit for my distress!
My favorite snack lately has been this Two Moms In The Raw raw granola bar with black almond  rooibos tea.  Hits the spot every time!
Now here's a new dinner for ya!  I made myself some black bean spaghetti (post on that alone coming soon!) with marinara, served along more sauteed spinach and roasted cauliflower.  I also mixed in a few chunks of feta into the spaghetti for more flavor.  Like I said, a full post on this spaghetti is coming at you shortly, but for now, I will just saw it was quite tasty!  My favorite part though was the cauliflower, which I seasoned with TJ's garlic salt and olive oil.
I did have some unpictured dark chocolate for dessert.  Some things never change!
What was the best thing you ate this past week?  Have you ever tried black bean spaghetti?