What I Ate Wednesday: Reunion Shows
Before I dive into a day's worth of eats, I just wanted to make an observation. I have noticed lately that practically every reality show I watch now also has reunion shows once a season is over. Real Housewives has been doing that for a long time, but the thing now is that their reunion shows are practically their own season, with the reunions broken down into three or more episodes itself! I am currently watching the Mob Wives reunion– I don't recall being a reunion for prior seasons of that show so they too are jumping on the reunion bandwagon. Generally, I feel reality show reunions are pretty tedious and boring, but the one thing I do like about them is you get to see how the cast of the show looks in "real time" because reunion shows are taped much more recently than the actual season of the show they follow.
Anyway, I just engaged you in some pretty mindless banter there, didn't I?
Happy Wednesday! I simply cannot believe April is on its way out. Once May hits, I seriously will be counting down the days until the end of my school year, which I think officially ends on June 20th (darn snow days!). One of the things I look forward to the most in the summer is being able to eat my lunch in more than twenty minutes, which is basically how long I have in school. Soon enough, that time will come I guess!
Thanks to Jenn for hosting the party. . . now onto my food!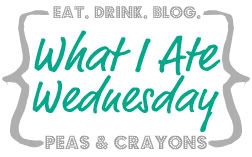 I started the day with a standard granola bowl, full of Oats brand granola, coconut milk kefir, banana, unsweetened coconut flakes and peanut butter. It always hits the spot!
I tried a new-to-me soup for lunch to warm up my bones on that chilly Sunday. This Amy's veggie soup has an excellent ingredient list basically consisting of all veggies!
I veggie-fied it some more by adding some greens, grated carrots, cucumber and daikon to it before I heated it up. It turned out pretty great– I recommend this soup if you are looking for a light, veggie-tastic soup.
While it was quite filling, the soup wasn't enough calorically, so I added this piece of toasted Ezekiel bread with melted cheese to the mix for some carbs and protein.
I had one of my favorite snacks later in the afternoon– vanilla Rooibos tea and Trader Joe's raw nut and raisin pack.
Dinner was fantastic! I had a slab of store-bought Wildwood brand sprouted baked tofu, which is extremely delicious. I had the "savory" flavor, which just means the tofu is marinated in soy sauce and spices. I served it over some quinoa pilaf I made (recipe coming soon!), along with some garlicky spinach, roasted asparagus and roasted cauliflower. I love this meal for how veggie and protein packed it was!
I am on a Siggi's kick big-time. I love ending my dinners these days with cool, creamy and thick Icelandic yogurt. This container has 14 grams of protein for only 100 calories and it is lightly sweetened with agave.
My last bite of the night was half of this TJ's dark chocolate bar. I always end my nights with chocolate!
All in all, looking back, I ate well on Sunday! The tofu/pilaf kick has continued into this week. . . I am just going with it because it is what I am craving.
What foods have you been craving lately?