What I Ate Wednesday: May Half-Days
Happy, happy, happiest May! May is by far one of my favorite months– there are so many awesome things that happen in May! First, today and tomorrow are half-days at school, where underclassmen get dismissed at 10:40 and seniors come in to school in the afternoon to present their graduation portfolios to teacher review committees. It's a big few days at my school because seniors have been prepping for their presentations all year and it's one of their last hurdles to overcome before graduation. In fact, after this week, senior have only three weeks left before final exams, and since I have a lot of seniors this year, that means I'll be done teaching a few of my classes after three and a half weeks!
May is the season of proms too in my school, which is always exciting. In fact, I met my husband immediately after I chaperoned one of my school proms years ago, which means we celebrate our "having met" anniversary in May too. This month just screams that summer is approaching and school is truly winding down, and that makes me so happy!
Anyway, before i present my latest eats, please, let's thank Jenn for being such a wonderful WIAW host!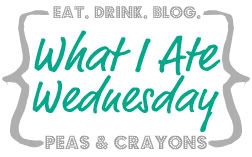 I am majorly trying to run down my pantry, so every time I finish a bag of granola and am able to open another that I have in stock, I am excited! Yesterday, I cracked into this amazing raw granola that tasted of vanilla and coconut. It's definitely one of my favorite granolas yet!
This side profile highlights all the magnificent clusters! I heart chunky granola!
I adorned my granola with the usual– coconut milk kefir, cinnamon, banana, and tahini. So good it was!
For lunch, I enjoyed a serving of Trader Joe's minestrone soup, salad-ified by adding greens, cucumber, daikon, and broccoli slaw to the soup before heating. Souper-salad is one of the best ways to pack in extra veggies.
For a protein punch, I had some plain Greek yogurt and sliced strawberries for dessert. Strawberries are so good right now– nice and sweet!
Later in the afternoon, I opened a new bag of these Two Moms in the Raw granola planks, this time in the goji berry flavor.
THese bars are incredible on texture due to how seedy they are, which is why I am such a huge fan! The goji berry flavor doesn't taste too different from their blueberry flavor at all.
Dinner consisted of all my new staples: here we have some herbed millet, curry tofu that I bought from Whole Foods, roasted cauliflower and asparagus, and some sauteed spinach.  All veggies were seasoned with Trader Joe's garlic salt, which is by far one of my favorite spice blends ever!
More yogurt, more protein for dessert!  Siggi's is by far one of the tastiest thick Icelandic style yogurts out there.
And, finally, once again, dark chocolate to really put an end to the night.  Sorry for the recycled pic. . . and mind you, I only ate half of the bar!
Looking back, it was a very satisfying day of food, full of variety.  I really enjoying dairy products in moderation lately and am so thankful that they seem to be agreeing with my digestion!
What's your main source of protein in your diet?  For me, right now, it seems like Greek or Icelandic style yogurt!