Good morning everybody!  This week did blow by for me; I think it's because it was a pretty easy week for me at school.  We had two half-days Wednesday and Thursday, and yesterday it seemed like half the school was absent!  I literally had 22 students absent in my last period class out of 29 total!  Needless to say, senioritis has set in big time for many of my students.  What's funny is it seems senioritis spreads pretty easily to underclassmen as well!
Today is the first day in what seems like a while that my husband and I have the whole day to ourselves.  We haven't gone on a super long walk together in a long time, so that's definitely on the agenda for today.
I also have a bit of school work to complete today, but other than that, my schedule is wide open.  As much as I don't want to waste away a beautiful day, I have a feeling an afternoon nap will be in order. I am actually trying to rack my brain thinking of other things I can do today but I have no desire to do a lot of my usual go-to activities like shopping for clothes or food.  Well, there is one thing I do kind of want to do soon, and that is shop for new running shoes.  I am not back to running yet, but I have been wearing Nike Frees for a while now, and wonder if those shoes don't provide enough support for me and may just be aggravating my back problems.  I need to go to our local running store so they can give me some good advice.
I absolutely cannot wait until summer vacation starts for me.  Our official last day is June 20th, which is a whole week after we should have gotten out.  Hurricanes and snowstorms this past year led to too many days off, so as a result our last day was pushed back a week.  Seniors though have their last day on May 24th, followed by a week of exams so in about three weeks, one-fourth of our student population will be gone!  That also means half of my students will be outta here in three weeks or so, which will also significantly lessen my work load.
This coming week is teacher appreciation week!  At our school, that means teachers are given a special treat by students every day this week, including free lunches, car washes, school supplies and so on.  Also, Chipotle is offering buy one, get one free on Tuesday from 4 to 7 for all teachers who have a faculty id card!  I'm definitely going their twice, once for my mom to get her two burritos and then once for my husband to get him two!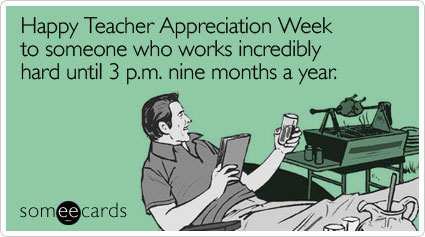 Man– all this school talk!  Clearly I am counting down the days until June 20th!  I just hope by then my leg/back feels better and I can start running again and resume my beloved morning workouts.
Well I guess that's enough randomness for one day– what are you looking forward to this summer?