What I Ate Wednesday: Our Having-Met Anniversary
This is a pretty special week for me– eight years ago, on May 6th, 2005, I met my husband for the first time. We actually met at a restaurant in the Federal Hill section of Providence called Zooma. I was hanging out there after chaperoning my school's junior prom, and he came to hang out with one of his high school friends, who happened to be a teacher I was with. Three months later, we were engaged!
We celebrate our having-met anniversary by going back to Zooma each and every May 6th since we met. It is pretty lucky we met at a restaurant first that has the longevity to still exist so we can make our return visits, and second that has wonderful food. But before I show you what we ate at Zooma Monday night, let me first show you what I had for breakfast and lunch first! Thanks Jenn for hosting!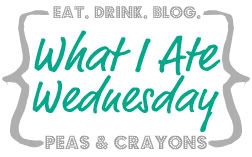 I ate my usual oatmeal bowl– except this time, it wasn't oatmeal– it was oat bran!  I picked some oat bran up at Trader Joe's last week, and decided to bring it into my life, especially since it not only reminds me of my childhood favorite, Cream of Wheat, but also because it has more protein and fiber than oatmeal per serving!  I cooked it in the microwave with ground flax, cinnamon, vanilla bean powder, and sea salt, and topped it off with a sliced banana, tahini, and unsweetened coconut flakes.
Whole Foods had my favorite massaged kale and avocado slaw as their prepared salad special the other day, so I bought a container (though I have gotten pretty good at making it myself!). For lunch, I had some of the kale salad, some raw Dr. Cow nut cheese, raw veggies and some raw crackers and zucchini chips. I haven't had an all-raw lunch in a while, and it really hit the spot.
Now onto my Monday night anniversary dinner.  An 8 o'clock dinner reservation awaited– we always request to sit at the table we actually met at!
They were aware of our anniversary story, so we were greeted with free champagne!  I don't drink, but it was a sweet gesture.
All of the food at Zooma is so fresh, including their crusty bread.  I enjoyed two chunks dipped in peppery olive oil.
My husband and I split a margherita pizza.  I swear, I can't go more than a week without eating this kind of pizza.
I also had a few bites of my husband's red wine infused goat cheese tortellini.  It looks horrid but tasted divine.  It was house-made too!
I also devoured a tasty escarole salad with fresh mozzarella cheese and a red wine vinaigrette.
I think our dessert though was the best part– tiramisu for the anniversary win!  I forget how much I love this creamy dessert– I need to get it more often.
I was up late considering it was a school night– I didn't get to bed until 10!  I know, I know, for an average person that's not late at all, but for an old lady teacher like me, that's super late, considering I usually fall asleep before 9!
It is fun to do something a little different on a school night though. . . and I wasn't even tired the next day!
Do you like dining out on work nights?  I tend to prefer to stay home when I know I have to get up early.