What I Ate Wednesday: On Repeat
If you've been reading my What I Ate Wednesday posts over the past year or two since when I originally joined in on the fun, than you know I tend to eat meals on repeat. Yesterday's eats are no different– everything I ate yesterday is a tried and true favorite and all things you've seen before. However, there ain't nothing wrong with eating the same foods over and over, as long as you enjoy them and they're pretty good for you, right? Thanks as always to Jenn for hosting the party each and every week!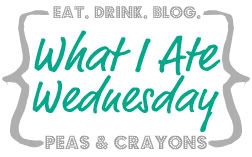 Granola is a breakfast staple for me– I have probably tried twenty different kinds of granola since I started the blog, and yesterday, I tried yet another one to add to my list.
Two Moms In The Raw granola is similar to most raw granolas I have tried. Made of ingredients like coconut and buckwheat, this particular granola was interesting because it was shaped in little squares! It tasted amazing– it was crunchy and chewy at the same time with a lovely coconutty vanilla flavor.
I paired the granola with the usual breakfast staples of sliced banana and a tablespoon of tahini. I later added some coconut milk kefir and cinnamon.
My school building has been freezing lately, despite the fact its been in the sixties outside. Pretty much every vent in our school is blowing out cold air!. That being said, I was happy I had a longer-than-usual lunch period, which prompted me to pack a hot lunch since I would have time to microwave it! I had quinoa salad (purchased from Whole Foods) over greens, grated carrots, broccoli slaw, grape tomatoes and daikon. After I heated it in the microwave, the veggies steamed up nice and tender. I also had an unpictured orange for dessert.
Snack was consumed post-physical therapy.  I had time to grab my favorite vanilla rooibos tea, which I sipped while I munched on some Trader Joe's raw trail mix.
I literally have been eating the same dinner for days because I love it so much!  This picture is recycled since I forgot to snap a pic last night, but the below plate looks exactly like what I had last night.  I had some quinoa cooked with peppers, onions and seasonings with  a block of baked tofu, as well as some roasted asparagus, cauliflower and sautéed greens.  Totally addictive, this meal is!
I did have dessert– imagine a strawberry Siggi's Icelandic yogurt and a hunk of dark chocolate.  It's not a complete day unless there's some dark chocolate (unless of course there is a Crumbs cupcake instead!).
I don't just eat meals on repeat– I once made an entire CD of just one song, played on repeat, so I wouldn't have to manually hit repeat everytime I listened to it!
Do you eat meals on repeat, or do you eat differently all of the time?