As I put together this recap, I am officially in my 30th week, which once again, feels like such an important milestone!  !0 more weeks more or less until my little munchkin arrives!  I have even gone so far as to calculate how many more days of work I have until I am on leave, and it's only 42!
Well week 29 came equipped with lots of new and exciting developments.  Week 29 started last Saturday, where hubby and I had a super productive day– among many other things I bought my shower dress that day and we went to a good friend's wedding.  Oh, on the way to the wedding we also did a little car shopping as well, in which we scouted out a different dealership than the one we originally went to.  Sunday was a pretty low-key day, but Monday was a bit hectic.  I finally did my 1 hour glucose test for gestational diabetes, plus I had a doctor's appointment that day as well.  Admittedly, the orange glucose drink wasn't that bad, but it did leave me feeling kind of jittery all day.  My doctor's appointment went well– the baby's heartbeat was strong, and I also ended up getting a few vaccines.  The combo of getting blood drawn for the diabetes test plus the vaccines left me pretty exhausted on Monday.  I haven't gotten the test results yet, but hopefully, by now, no news is good news.
Of course, Christmas Eve and Christmas were wonderful days in which we spent lots of quality time with our families.  Baby B got lots of cute gifts, including books, clothes, blankets and the like.  Also this past week, hubby put together even more nursery furniture that we ordered, including some wooden shelving and storage bins.  The nursery is really coming along, and except for one wall whose decorations won't arrive for a month, I expect it to be more or less done within the next week or two.
Let's recap the rest of week 29!
Baby's size:  According to my Babycenter app, Baby B weighs over 2.5 lbs (well, at my last almost two weeks ago, ultrasound she was 2 lbs, 12 ounces!), and is the size of a butternut squash.  Her total length is about 15 inches!  She must be getting long because I can feel her at multiple sides at the same time!
Weight gained:  Thanks to the wedding, Christmas Eve (where dinner was had at the Cheesecake Factory) and Christmas, I definitely gained the recommended pound for the week, which brings me to roughly a nine pound gain.
Exercise: I exercised a whopping four times this week!  I went on two 3.1 mile walks, and did two 60 minute elliptical sessions.
Symptoms:
– I am definitely experiencing really terrible "pregnancy fullness."  I really think the baby is stretching out a lot and taking up a ton of room because my whole abdominal area feels tight and cramped.  I also feel some soreness in my abdominal area, probably because I am stretching and growing.  I also sometimes feel like my ribs are going to pop!  It makes it really hard to eat decent portions, but honestly, it didn't stop me on Christmas!
-– Unfortunately, starting on Christmas, my sciatic nerve on my right side has started to give me serious pain, and I feel like in that regard, I have returned to the first trimester!  The pain does tend to radiate down my leg, and it hurts to put any pressure on it.  Not only am I waddling, but I am limping too!
– Things I am not experiencing yet (knock on wood):  contractions and swelling.  My wedding rings still spin on my finger, and I don't feel particularly swollen anywhere except my stomach of course!
Emotional breakdowns: None, but I am definitely crankier than usual.  I just think I am less patient than I usually am, mostly because I tire easily!  For example, waiting in lines agitates me when it never did before.  I know it's just because standing for too long is tiresome, but still!
Food aversions: None I can think of!
Food cravings:  I had a major nacho craving, which is why my husband and I went to the Cheesecake Factory on Christmas Eve.  I didn't even bother with an entrée– instead I just ordered nachos for dinner, and enjoyed some of my husband's fries!
Maternity Clothes: I am basically mixing between regular pants, maternity pants, regular shirts, and maternity shirts.  In other words, I can still get away with a lot of my regular clothes, but I really enjoy wearing maternity clothes as well.  My shower dress is not maternity– here's a pic of it off of the J Crew website.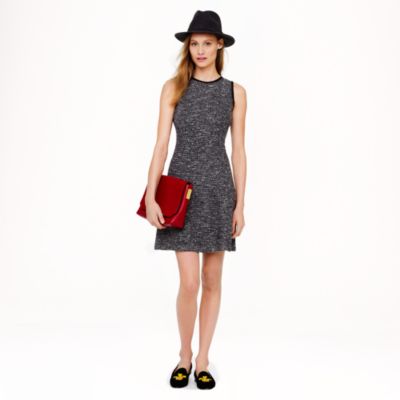 (Source)
Gender:  Baby girl!
Big Moment of the Week:  I think the biggest moment of the week was seeing my family on Christmas.  Now that I am undeniably pregnant and am definitely showing, my nephews have really started to bond with the baby, talking to her and patting my belly!
Looking Forward To:  Well, I have my shower yesterday, so I look forward to recapping that for you all.  It am so excited for the event and I am so grateful for my family and friends!  I am really looking forward to organizing all of the baby items we receive and pulling the nursery all together.  Also I just look forward to getting through the next ten weeks!
Not Looking Forward To:  The fact that more likely than not, my discomfort will only continue to get worse.  I am hopeful though that maybe this nerve stuff is just fleeting.
Baby Items Purchased: I bought some breastfeeding supplies this week, plus some more decorations from Etsy.  We also bought a bunch of baby storage furniture, as well as rugs for other rooms in our house so baby can safely roll around when the time comes!
Gifts received:  A ton at Christmas from my amazing mother and sister-in-law!  Outfits galore were brought home, as well as an adorable baby blanket, a few loveys, a stuffed animal in which you can record baby's heartbeat (at a doc's appointment) and some books!
All in all, week 29 was a pretty great week with the exception of the return of my joint pain and the increasing discomfort I am starting to feel.  I am so happy to know that the reason I feel so uncomfortable is because Baby B is growing strong, and that makes it all worth it!