I guess it's about time that all this stess/running around/sleep deprivation has caught up with me.  I am officially sick.  I have a sore throat, have sneezed a million times today and am feeling feverish.  It started on Friday– I had reported to you all yesterday that I had a terrible headache and stomach ache on Friday.  When I woke up Saturday, I felt OK but I could tell my stomach was acting up and that I was more tired than usual.  I went to the gym to complete a ten miler, and while I did it, my body felt sluggish the whole time and my stomach was cramping up the entire run.  By the time I left the gym, the runny nose and sneezing started.  While I was functional yesterday, I certainly felt off, and I had to keep a box of Kleenex with me the whole day.  Now, I am just tired, run-down and feeling crappy.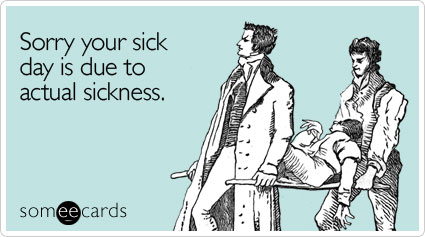 (Source)
I hardly ever get to a stage of feeling "full-fledged" sick to the point I can't go to work, and I am definitely not at that stage thankfully.  And I certainly hope the worst has come and gone.  I know my body is rebelling from the hideous schedule I am making it endure.  Everyone's different, and some folks out there probably think my schedule is nothing to complain about; however, for me, it is just too much.  Waking up before five everyday, working, studying, trying to fit in errands and staying up late to read for my classes is basically a recipe for sickness for me.  Today, I hope to chill out a bit and truly take it a bit easier.  I don't think anything is going to help me but just some good, old-fashioned relaxing.  And maybe some apple picking will soothe my soul as well. . .
What's your best "what to do when you're sick" advice?