What I Ate Wednesday: Dairy Free and Almost Gluten-Free
As my title suggests, I am going dairy free and low-gluten. . . at least for the next few days! While I am not sure it makes me feel any better (and I should find out once and for all if I am sensitive to either sometime this or next week!), I have been feeling very "inflamed" lately– my joints have been very achy and my nerve pain in my leg is still there on and off. Since dairy and gluten can contribute to inflammation in some cases, I think it's best to avoid them for a while!
Happy What I Ate Wednesday! Thanks Jenn for being such a wonderful host!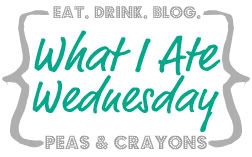 Breakfast yesterday was some delicious (while not at all photogenic) oat bran, cooked with sea salt, flax seed, cinnamon and vanilla bean powder. I topped the oat bran with a sliced banana, unsweetened coconut flakes and served up a dollop of cashew butter on the side. (P.S.– I like my oat bran really clumpy, and once its done, I push it all to one side of the bowl so my cashew butter can be eaten last, which is why it looks half eaten in the pic, though it's not!).
The lunch I packed to work was kind of a hit and miss.  The hit was this container of cabbage and apple salad, which is coated in a cashew-based cumin dressing.  The recipe comes from Thrive Foods, and is vegan, raw, gluten-free and tasty!
The miss was these Flacker brand flax crackers I packed.  When lunchtime came around at work, I could only eat one– they were so not tasty!  These are by far the worst flax crackers I have ever consumed!
I also took some cherries and blueberries to work for lunch– note how the crackers look OK.  Little did I know looks are deceiving in this case!
Post workout snack was this bag of Trader Joe's raw trek mix.
Dinner was my usual as of late– quinoa pilaf topped with a baked tofu slab (which is where I ingested some wheat since the baked tofu marinade contained soy sauce made with organic whole wheat), garlicky spinach and baby kale, roasted asparagus and roasted cauliflower.  So amazingly good it was!
I'm back to apples for dessert– here we have a Honeycrisp, which are my favorite apples ever.
My last bites of the night were these two dark chocolate squares.  I always have to end with dark chocolate!
I love eating so fruit and veggie heavy– it makes me feel good physically, but it does a lot for my mental health too because I feel happy knowing I am putting good foods into my body.
On that note, what's the best fruit or veggie you ate this week?