What I Ate Wednesday: Summer Feast
Good morning and happy Wednesday! I was up early today (5:30) so that after writing this post, I can get to the gym and start my day on a good note. I actually woke up at 3:30 A.M. ready to wake until I realized just how early it was! I guess that's what happens when your husband forces you to go to bed at 9 because he was so tired!
Anyway, thanks to Jenn for hosting this party!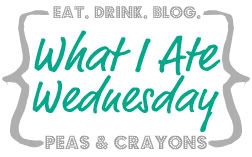 The eats I am featuring today were actually consumed on Sunday, on the tail end of the holiday weekend.
Breakfast was the only meal I failed to snap a pic of, so this is a recycled photo, but what I did eat looks something like this. I had oatmeal (this here is oat bran) with banana and peanut butter. I actually didn't add coconut flakes to my oats either!
Lunch was awesome! I had some vegan tofu salad (from Whole Foods) with a brown rice gluten-free tortilla, sliced cucumber and daikon, and some steamed spinach. I basically tore a piece of tortilla and layered on some spinach, veggies and tofu salad before popping it into my mouth.
Fresh summer fruit served as dessert.
Now dinner was the highlight of my day. My husband and I were invited to our friends' home in Tiverton, RI right on the water. They prepared for us a proper summer feast!
For dinner, I had couscous with mixed grilled veggies, a grilled farm fresh portabella and some grilled peaches, and a salad with spinach, summer berries and mixed nuts. The meal was incredible– all of the produce was picked up from local farm stands, and you could certainly tell the difference compared to veggies from a grocery store. Also, I am not generally a mushroom fan, but those portabellas were tasty! My first ever grilled peach was pretty epic too!
And continuing with the farm fresh theme, dessert was a farm stand homemade blackberry and peach pie with locally made vanilla ice cream. It was heavenly to say the least.
That summer feast was a pretty incredible way to end the fourth of July weekend!
Do you like fruit pies? What's your favorite kind? I am not much of a fruit pie person, but this one was amazing.