What I Ate Wednesday: Summer Camp
I am not one of those people who went to summer camp as a kid. In fact, I never participated in any sort of summer program meant to keep my busy as a sweet youth. I just used to hang around my neighborhood with my best friends, who happened to live next door. I definitely was jealous of those kids who did get to go to camp, especially sleep-away camp. I remember wishing that I too could swim in a lake or sleep in a bunk or roast smores over an open campfire. I still long for that summer camp experience at times, especially when I watch the bevy of summer camp movies that inevitably are on tv during the summer!
Well, my two nephews Prem and Om are actually going to camp this summer–in fact, they are going to a week-long camp this week and one next week. Both are not sleepover camps, but they are day camps where they do a bunch of different activities. I actually am getting a taste of the summer camp experience this summer because I am in charge of picking them up from camp everyday, since my brother-in-law and sister are working. It is so fun to hear their camp stories– little do they know I am living vicariously through them!
So now you know what I have been up to these days– every day, at 3 P.M., you can find me at camp! I actually am glad I get to have these few weeks of bonding time with my nephews since I don't see them all too often! Camp doesn't get in the way of my mealtimes though, so here's some of what I have been eating lately. Happy What I Ate Wednesday, and thanks to Jenn for hosting!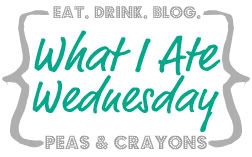 Breakfast yesterday was pretty simple– I had plain Puffins with almond milk, banana and peanut butter. I am still obsessed with Puffins!
For lunch, I had a sandwich, made with two slices of Ezekiel sprouted grain bread, a slice of mozzarella cheese, a schmear of hummus, romaine and tomato. The rest of the tomato was sliced up on the side, sprinkled with Herbamare.
Summer fruit for dessert of course!
I tried a new frozen food product yesterday since I am trying to eat down my freezer. I bought this Whole Foods organic quinoa and veggie mix (which is nothing but quinoa and veggies) a while ago, and finally made it! All you have to do is microwave the bag for four minutes and that's it!
The quinoa cooked perfectly! In fact, when I make quinoa it has a tendency to get mushy, but the texture of this quinoa was ideal. I would definitely buy this again!
To go over the quinoa, I made a batch of tofu scramble with tons of spices, baby kale, and some veggies like onion, squash and pepper.
My dinner plate consisted of the quinoa and tofu scramble and steamed carrots, string beans and broccoli. I also had an apple and dark chocolate for dessert, which I forgot to snap a pic of!
And that concludes my WIAW report for the day– what was the best thing you ate this week?