What I Ate Wednesday: No Food In The House!
Happy Wednesday friends, and more importantly, happy What I Ate Wednesday!  Thanks Jenn for hosting– if you want to know what a typical day of eats looks like for a bunch of different bloggers, please, check out Jenn's roundup!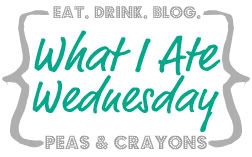 So I have been talking a lot about cleaning my house out. . . not only have we been cleaning our house of things we no longer need or want, but I have been cleaning out our fridge too.  In fact, I am trying to run down food supplies, including fresh, frozen and pantry items.  You may have a guess as to why I am doing this, but in case you can't figure it out, I'll let you know soon (probably Friday or Saturday).  Anyway, since I haven't been buying any new food, I have been relying a lot on frozen and canned foods, as well as quite a bit of take out or restaurant food!
Here's what I've been eating this week (minus breakfast because I keep forgetting to snap a photo).  It's kind of unusual for me to rely so much on prepared foods, but it's only for this week, so no big deal!
Breakfasts, while unpictured, have mostly been bowls of Puffins with almond milk, peanut butter and banana.
I have a few different lunches to share with you. All of them actually involve Amy's products.
One day, I had a can of Amy's rustic Italian vegetable soup, with some spinach thrown in the mix.
Another time I had an Amy's gluten-free bean burrito topped with salsa with romaine on the side. I also had a few roasted sweet potato wedges with more salsa that went unpictured.
I also enjoyed a can of Amy's Spanish red beans and rice soup with some more spinach thrown in!
All lunches included bowls of fresh fruit!
Here's dinner from Sunday night– my husband and I went to one of our favorite Asian restaurants called Four Seasons to satisfy a strong nime chow craving I was experiencing.
I drank copious amounts of green tea throughout dinner.
I made me husband order two orders of nime chow (fresh spring rolls) because I knew sharing one would not be enough! I had one and a half rolls drowned in peanut sauce and my craving finally was satisfied!
For my main meal, I had veggies and tofu in a garlicky sauce with brown rice. Portions were huge, so I only ate about a third of this!
Next week I will be able to replenish my fresh food stores and get back to cooking, but for now, I will enjoy the fact I am forced not to cook!
Do you ever rely on prepared, frozen or canned foods? If so, what sorts of canned/frozen foods do you like?