Could It Be– A WIAW Post!
Good morning and happy Wednesday!  I can't believe I actually got my act together enough to put together a decent What I Ate Wednesday post (thanks to Jenn for hosting!).  I have been reveling in my last few days of summer vacation, so I haven't exactly been very active here on the blog, but I do plan for that to change very soon!  I haven't actually been doing anything that exciting lately though– just taking it easy and enjoying my last free days before I head back to work on Monday.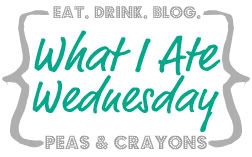 So, I've still been on a eat what I want when I want kick lately, and it has been serving me very well.  In fact, I have rediscovered some foods that I used to really enjoy in the past but for some reason inadvertently banned from my diet for one reason or another without really realizing it.  It's funny how now that I eat more intuitively, I actually crave sweets less than I used to and when I do eat them, I get sick of the sugary taste much sooner than I used to.  That's been a nice side effect of relaxing my diet a bit.
I have two recent breakfasts to show you.  For a good part of the summer I have been driving to a nearby Starbucks lately to get coffee and some sort of breakfast item.  My favorite thing there is a plain butter croissant (way better than Dunkin Donuts croissants!).  I have been starting to wean myself off of this habit now that I know I won't be able to do it when I go  back to school.  My last Starbucks breakfast was actually a healthy one– their perfect oatmeal plain with sliced banana.
Once I actually went grocery shopping for breakfast foods this past week, I have been able to put together tasty breakfasts at home.  My recent go-to, and what I had this morning, is a toasted whole wheat English muffin with butter, and a sliced banana with some plain Greek yogurt dolloped on top.  I don't know why English muffins have been out of my life for so long, but I am definitely making up for lost time!
This lunch pic is recycled, but similar to what I have been eating lately.  I made this sandwich a few times this week so far– it's whole wheat sourdough bread with a slice of pepper jack, pickles, cucumber, tomatoes, and lettuce, with a side of kettle chips.  It's my attempt to replicate a veggie sandwich at Subway, but much fresher and tastier!
Unpictured snacks have been Clif, Luna or Larabars– I have also rediscovered my love of Clif bars recently!
Last night's dinner was kind of a funny one for me!  Ever since reading Chocolate Covered Katie's post on homemade spaghetti-o's, I have been craving the canned stuff!  The funny thing is I don't even think I have ever had spaghetti o's in my life!  I am too lazy to make Katie's version, which looks great, but I did find an Annie's brand version that looked much healthier than the Chef Boyardee stuff.  I also picked up a can of Annie's canned ravioli to give a try– the nutritional stats aren't fantastic (especially the sodium levels), but they aren't horrific either, and it was all in the name of satisfying a craving anyway!
I heated the whole can on the stove, and paired it with some steamed cauliflower.
It was actually pretty tasty and filling– my only complaint is it caused me to be thirsty all night long!  Also, the sauce is a bit too sweet for my liking, which is why I think it's a nice occasional treat but not an everyday meal!
I had a bowl of fresh fruit for dessert– I needed the hydration!
You guys can probably see that my eating habits have changed a bit since our move.  I don't force myself to eat a ton of veggies that I don't want, nor do I eat the same things day in and day out for every meal.  I have been going with my moods and cravings, and it has been such a good thing for me.  Now that school is starting, I am going to have to plan my meals more, but I still want to keep this more relaxed attitude towards food going!
Do you consider yourself an intuitive eater, or do you prefer more structure and planned meals?